World View: Somalia Terror Bombings Again Raise Question of U.S. Military Strategy in Africa
Dozens killed in Mogadishu, Somalia, bombings, two weeks after hundreds killed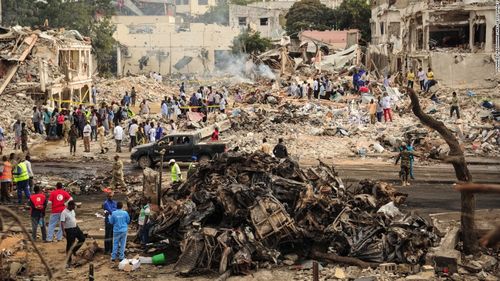 Aftermath of two car bombs in the heart of Mogadishu, Somalia, on Saturday (CNN)
At least 23 people were killed and dozens injured from a series of coordinated suicide bombings and gun battles on Saturday afternoon in Mogadishu, the capital city of Somalia.
The al-Qaeda linked Somalia terror group Al-Shabaab claimed credit for the terror attack. The first attack was a car bomb outside the Nasa Hablod hotel, usually frequented by Somalia politicians. A second car bombing in the same area targeted security forces and ambulances as they arrived at the hotel to respond to the first bombing. A third bombing occurred when an attacker detonated his explosive vest inside the hotel. The explosions were followed by heavy gunfire.
Saturday's bombings came just two weeks after a massive truck bombing in a busy marketplace in Mogadishu killed 350 people. That was by far the worst terror attack in Somalia's modern history.
If there is any black humor in this horrific situation, it is that al-Shabaab claimed credit for Saturday's attack, but not for the attack two weeks ago. According to most analysts, the reason that they did not claim credit for the previous attack is that so many civilians, including many women and children, were among the 350 dead, and al-Shabaab feared a public relations disaster. Nonetheless, Somali civilians are furious at al-Shabaab and hold them responsible for all those civilian deaths. The latest attack targeted politicians, security forces, and ambulance drivers and, apparently, the al-Shabaab terrorists believe that ordinary people will love them for helping to stamp out (or blow up) government corruption.
Somalia attack comes as Niger ambush leads to review of US military aims in Africa
Since October 8, when I first reported the deaths of four US troops in Niger, this little-known event has become the subject of major political controversy.
The story that has emerged pretty much follows what was known at that time. A convoy of American soldiers was ambushed by a group of dozens of militants, believed to be linked to Islamic State in Greater Sahara (ISGS), a militant group that has sworn allegiance to the so-called Islamic State (IS or ISIS or ISIL or Daesh). There have been additional details coming out that indicate that the ambush was planned by local villagers, who tipped off the militants and then delayed the American convoy from leaving long enough for the militants to get into place for the ambush.
The first controversy that has arisen was a national and international scandal, as it was debated for in media around the world whether President Trump had or had not momentarily forgotten the name of one of the soldiers, surely a question of galaxial significance, and well worth five or six days of constant 24-hour media coverage.
And second, there was shock and surprise on the part of many people that there are some 800 American troops in Niger. South Carolina Republican Lindsey Graham admitted that he had not known that, but said, "They were there to defend America. They were there to help allies. They were there to prevent another platform to attack America and our allies." The 800 US troops in Niger work with 4,000 military personnel from France, the former colonial power in the region, and 35,000 local partners.
There are actually some 6,000 American soldiers in missions in 53 African countries. These soldiers typically provide training and security assistance for local forces, including intelligence and reconnaissance help.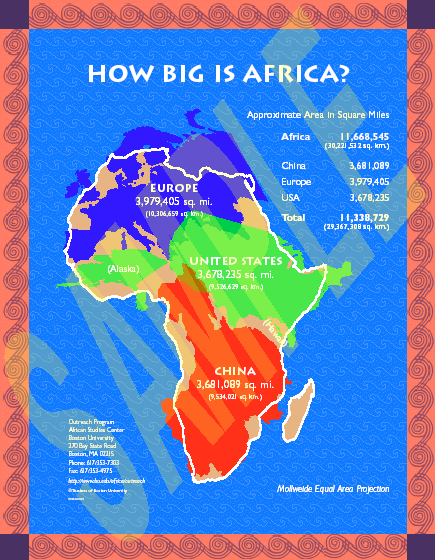 Africa is larger than Europe, America, Alaska, China, and New Zealand (not shown) combined. (Source: Boston Univ)
(In one sense, 6,000 American soldiers in Africa really is not a lot, given the size of Africa. Africa is the size of the ENTIRE United States INCLUDING Alaska PLUS all of China PLUS all of Europe – and there is still enough room left over to throw in New Zealand.)
The reasons given for the increase in American forces is to confront the challenges from Islamic extremists, traffickers, smugglers and antigovernment militias on all sides. In the case of Niger and the Sahel region, al-Qaeda has been long established there in the form of Al-Qaeda in the Islamic Maghreb (AQIM), and lately has reorganized into JNIM (Jama'at Nusrat al-Islam wal-Muslim, or Group for the Support of Islam and Muslims). Now, adding to that, with ISIS being expelled from its major strongholds in Syria and Iraq, there are ISIS-linked militias in Africa, including Islamic State in Greater Sahara (ISGS), which was responsible for the deaths of the American soldiers in Niger.
From the point of view of Generational Dynamics, this effort in Africa is nothing more than a holding action. No one can possibly believe that we can defeat these militias in Africa, just as we have not been able to defeat the Taliban in Afghanistan, just as the French have not been able to defeat AQIM in Mali, just as UN peacekeepers have not been able to end the war in Central African Republic. The two recent bombings in Mogadishu, Somalia, shows how far off any such defeat would be. On the other hand, a complete US withdrawal could be destabilizing to countries where the US troops are providing support.
So the main American mission is to provide support and training to local national troops, while taking steps to guarantee that no American troops become casualties – which means that everything possible will be done to learn the lessons from the Niger ambush, to make sure it doesn't happen again.